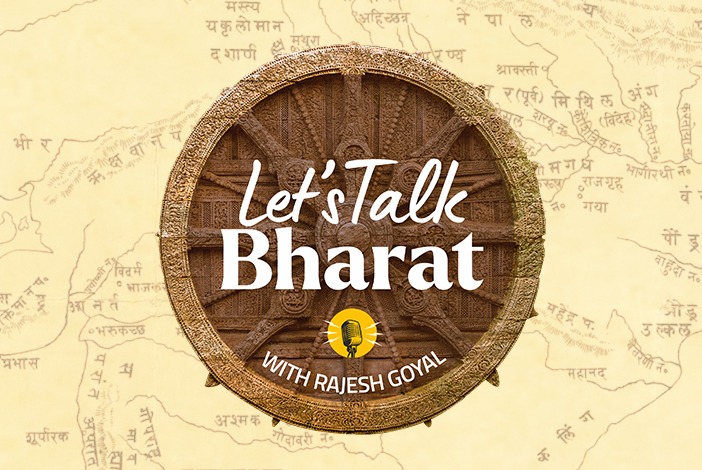 Let's Talk Bharat with Rajesh Goyal
"Let's Talk Bharat with Rajesh Goyal" is a captivating podcast hosted on our YouTube channel, dedicated to delving deep into the rich and timeless legacy of Bharat (India). Join us on this enlightening journey as we explore the multifaceted facets that make our nation an awe-inspiring tapestry of art, culture, history, philosophy, astrology, ayurveda, dashavtar (ten incarnations of Lord Vishnu), fairs and festivals, rituals, traditions, education, and our unwavering commitments to the environment and habitat.
In each episode, Rajesh Goyal, our knowledgeable and trustworthy host, unlocks the treasure trove of Bharat's heritage with profound insights, captivating stories, and expert interviews. We provide you with a credible and immersive experience, showcasing the immense pride we hold for our cultural heritage.
Whether you're a history enthusiast, an art connoisseur, a spiritual seeker, or simply someone who wants to connect with the heart and soul of Bharat, "Let's Talk Bharat with Rajesh Goyal" is your one-stop destination for authentic, thought-provoking, and inspiring content. Join us as we unravel the beauty, wisdom, and profound traditions that define our great nation, all within the comforting embrace of a trusted and believable narrative.
Buddha Bhoomi Vandan Yatra Concluded at ICCR's Azad Bhawan
New Delhi, November 4, 2023 – The 'Buddha Bhoomi Vandan Yatra' organized by the Indian Council for Cultural Relations (ICCR) has brought together 23 young Buddhist scholars from 11 different countries on an enlightening journey across India. The purpose of this cultural and educational program is to provide these scholars with a deeper understanding of India's rich Buddhist heritage, fostering cross-cultural understanding and promoting the exploration of India's historical and cultural ties to Buddhism.