TWO DAY WORKSHOP ON "CREATIVITY IN PHOTOGRAPHY"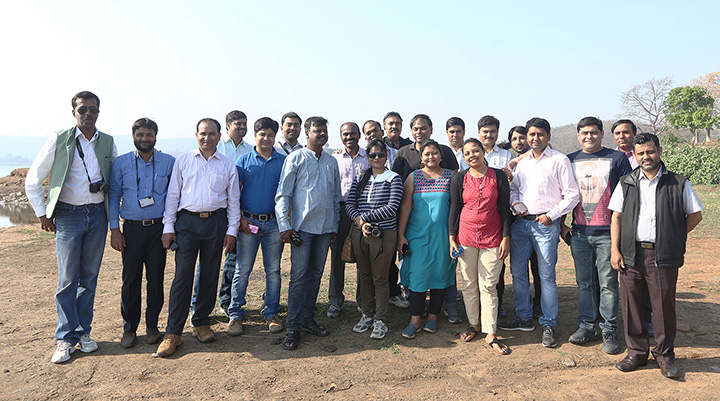 15-16 March 2016 • BNR Chanakya, Ranchi
Taking Photography knowledge to Ranchi this time.
The two day workshop was jointly organized by the Indian Institute of Photography an initiative of IIP Foundation and Knowledge Management & Communication Cell – KMC under Jharkhand State Livelihood Promotion Society (Rural Development Department, Govt. of Jharkhand). The Workshop was attended by Sr. Project Managers, Team Leaders, KMC team and their staff members. Some of the important personalities who attended the Workshop included Mr. Masood Muzammil, representative of World Bank; Mr. Kamlesh Prasad, Jharkhand State World Bank representative; Mr. Paritosh Upadhaya, CEO of Jharkhand State Livelihood Promotion Society (JSLPS) and Mr. Vishnu Barta, COO of Jharkhand State Livelihood Promotion Society.
The Workshop presented a brilliant opportunity to find inspiration and explore the role of creativity, while getting an introduction to basic photographic techniques. Mr. Rajesh Goyal, Director, IIP gave insights about creativity in photography, how one picture impacts world's view towards a country 'Sudan'. He also said that IIP Foundation is committed to work with JSLPS in spreading the knowledge about photography among the people of Jharkhand. Mr. Arnab Rastogi, IIP faculty taught the participants how to plan a picture and techniques about photography, tips and how-to-do's while taking photographs.
On 16th March, around 40 aspiring photographers went to the breathtaking valley of Patratu and shot some amazing photographs of the lake, flora & fauna and lots more. The Workshop was a grand success with lots of interactive sessions and went a long way in sharpening the skills of photographers.
#jslps #jharkhand_State_livelyhood_promotion_society
#creativity_in_photography #iip_foundation #photography_workshop_in_ranchi
#two_days_photography_workshop
Posted on Mar 15, 2016